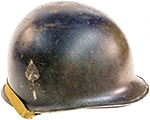 "Everything We Have"
June 6, 1944, will be a day forever remembered as the largest amphibious invasion in history: D-Day. More than 150,000 troops landed by sea and air, with nearly 20,000 casualties from both sides. Those who took part in the Allied landings witnessed one of the most pivotal moments in our history, and the beginning of a prolonged, costly, and ultimately successful campaign to liberate northwest Europe.
The National WWII Museum's "Everything We Have" tells the personal stories of the people involved in Operation Overlord in their own words, some for the first time. Based on the firsthand accounts held in the Museum's archives, and illustrated with many never-before-seen documents and artifacts, "Everything We Have" offers a rare insight into the experiences of those soldiers, airmen, and sailors who overwhelmed Hitler's forces at the Normandy coast.
Preorder